Winner of Canada's Top Small & Medium Employers for 2018
by Jerod Venema, on April 13, 2018

Frozen Mountain is extremely proud to announce that we have been named as one of the winners of Canada's Top Small & Medium Employers for 2018.
Now in its 5th year, Canada's Top Small & Medium Employers is a competition that recognizes the small and medium enterprises (SMEs) that offer the nation's best workplaces and forward-thinking human resources policies. The award is adjudicated on eight criteria: physical workplace; work atmosphere and social; health, financial & family benefits; vacation and time off; employee communication; performance management; training and skill development; and community involvement.
Frozen Mountain prides itself on being a progressive employer that puts employees first. We know that the best software is produced by the best people, and that the best people deserve to work in an environment that infuses fun, energy and passion into the workday and the projects we work on.
Here are just some of the reasons why Frozen Mountain is one of Canada's Top Small & Medium Employers for 2018:
Training & Skill Development: Being industry leaders in real-time communications is of paramount importance to us at Frozen Mountain. Through tuition reimbursements, career mentorship and regular industry specific lunch-and-learn presentations, we aim to ensure that our employees have the skills they need to succeed.
Competitive Salaries and Benefits: Our employees are the best and as such they deserve to be well compensated for the work that they do. We compare our salaries and benefits packages to the local averages and make sure that we stay ahead.
Work Atmosphere & Social: At Frozen Mountain, we are a big believer in "work hard, play harder." That is why we dedicate time for team building events, family events, monthly pub nights, birthday celebrations, ping-pong competitions, and weekly pizza lunches. If there is something we can do to enhance employee well-being, we will do it.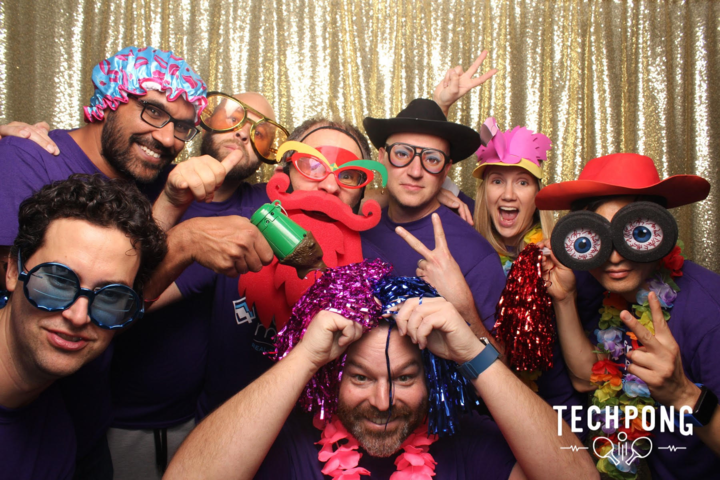 Frozen Mountain employees having (too much?) fun at the annual TechPong tournament
Food & Beverages: It's a well established fact that employees who are well fed work harder. If you were to open up any cupboard in the Frozen Mountain office kitchen and snack bar, you would find it teeming with food and beverages that are sure to satisfy any hungry developer or project manager.

Thank you to all of our dedicated, fun and hardworking employees that help to make Frozen Mountain Software one of the top 100 companies to work for in Canada. We couldn't do it without you.