How Cavrnus™ built a flexible XR collaboration platform with WebRTC
by Michelle Chen, on September 02, 2020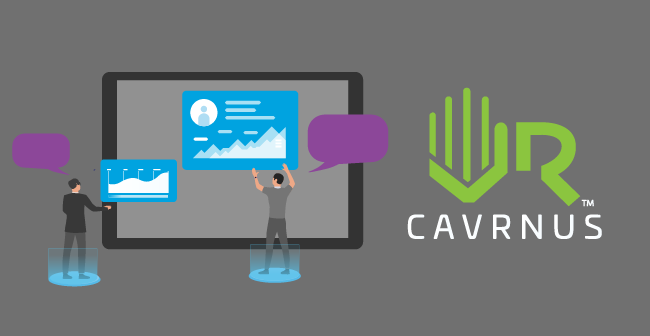 Lauded as "offices of the future," collaborative XR has continued to be an attractive, elegant solution to many complex organizational challenges, such as information retention, employee training, sales of complex products and systems, and remote field assistance (Raconteur, 2018).
So when an XR client of ours, CavrnusTM, recognized an opportunity to extend the availability of their XR platform beyond VR headsets and into the hands of iOS, Android, Mac, Windows and browser users, they understood that entrusting their video and audio technology stack to a professionally supported solution was critical to their success.
Cavrnus Spaces: What it is
When this last generation of VR headsets were released, 3D visualization veteran Anthony Duca and his colleagues immediately knew that there was an opportunity to elevate VR and redefine what XR collaboration platforms can do. Thus, Cavrnus was born: an enterprise-grade XR collaboration solution for design and engineering professionals seeking an immersive and productive virtual solution in which to build and manipulate 3D visualizations, augmenting existing organization workflows and infrastructure.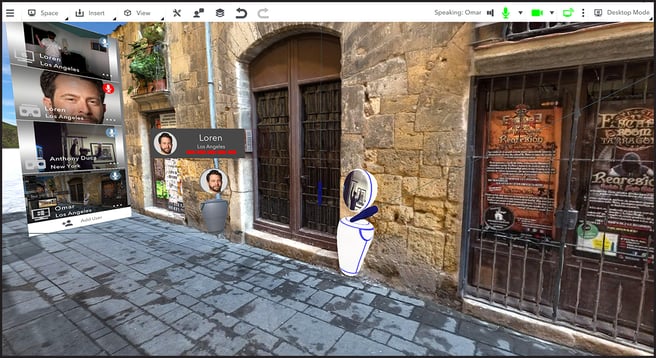 Preview of Cavrnus Spaces. (c) CavrnusTM
One of the many brilliances of Cavrnus Spaces lay in the platform's ability to accept remote teams joining with an array of devices including HTC VIVE, Oculus Quest, and MagicLeap One while having the freedom to switch to a native application on desktops, tablets and mobile devices, as well as web browsers, at an instant.
Tapping into WebRTC Technology
CavrnusTM knew that if they were to take XR collaboration further with ultimate platform interoperability, time spent maintaining live video stacks across an array of platforms could divert valuable resources away from perfecting their core product.
Although they integrated multiparty video and audio for AR/VR devices, extending into the realms of browsers, desktops, and mobile devices presented both a unique challenge and opportunity to harness WebRTC technology. While WebRTC remained as a Cavrnus core technology, enabling them to add real-time communication to their supported platforms, they selected a professional, enterprise-grade SDK to meet and extend beyond enterprise client requirements.
They were able to offer their enterprise clients:
the freedom of choice between On-Premises or Cloud hosting
the flexibility to tailor their platform to fit any use case, and
the ability to fully customize the live video media pipelines to meet specific requirements.
The Choice of On-Premises vs. Cloud Hosting
One key driver behind Cavrnus' adoption of LiveSwitch Server was the ability to offer organizations the choice of using their platform in two ways: 1) On-Premises and 2) in the Cloud. Their live video component required the same flexibility as the rest of their application. Cavrnus' ability to offer both solutions was highly appealing to their Fortune 500 clients in regulated industries where data security and intellectual property protection were of utmost concern.
The Choice of Customization To Fit Any Use Case
Cavrnus' flexibility ensured that organizations could tailor their Cavrnus Spaces installation to fit existing workflows and infrastructure, right down to the video and audio streaming requirements. While Cavrnus was natively flexible, they expanded their video and audio streaming functionality so that multiparty sessions could be hosted at ease. This flexibility enabled companies involved in industries such as oil and gas, architecture, engineering, and design to communicate through low-latency live video unhindered by limited streaming connectivity.
The Choice of Tailoring Entire Video & Audio Media Pipelines to Custom Specifications
WebRTC is a real-time communication standard closely watched by an active developer community and paced by all the major browser vendors. Extending WebRTC even further are the teams at Frozen Mountain. They have taken the standard to a whole new level by packaging the technology in a suite of native SDKs for virtually every platform imaginable while simultaneously opening up the media pipeline with a powerful API.
Both the LiveSwitch Server and LiveSwitch Cloud client-side SDKs provide complete access to the media pipeline. Developers and architects can essentially tailor all aspects of video, audio, and data transfer to meet exact client specifications.
In the case of Cavrnus, they leveraged LiveSwitch Server's flexible media pipeline access to implement additional layers of data security to fortify their video and audio connections. This eased the worries of multinational corporations for whom protecting their IP was a key strategic consideration.
Results
Since launching Cavrnus Spaces, CavrnusTM have deployed their platform for organizations in a wide range of industries with excellent results.
Industries & Use Cases using Cavrnus Spaces

Automotive
Immersive Showrooms with Virtual Renderings
Virtual Prototyping & Vehicle Design Testing
Support Service Technician Training

Energy
Renewable Energy Training
Onboarding & Process Training
Product Demonstration of Heavy Machinery

Oil & Gas
Digital Well Site Planning
Employee Training (Offshore Drilling, Emergency Response)
Studies of Geological Structures
Customer Engagement

Architecture
Renderings for Complex Structures (i.e. Hospitals)
Occupant Feedback for Safety Inspections
Virtual Presentations for Clients

Engineering & Design
Factory Planning & Equipment Installation
Measurements & Fit Checks
Design Communication with Clients
With a powerful XR collaboration platform and an equally capable live video component powered by WebRTC technology, Cavrnus offered enterprise clients an array of benefits. Enterprise clients can freely choose their installation method, tailor their audio/video feeds for specific use cases, and implement custom solutions within the video/audio media pipeline. Best of all, Cavrnus and its clients could enjoy all this flexibility without the burden of maintaining a series of live video stacks across all their supported platforms.
Get started today with your free download of LiveSwitch Server or request a demo of Cavrnus on their website.