5 ways immersive virtual event platforms can reduce Zoom fatigue
by Michelle Chen, on February 08, 2021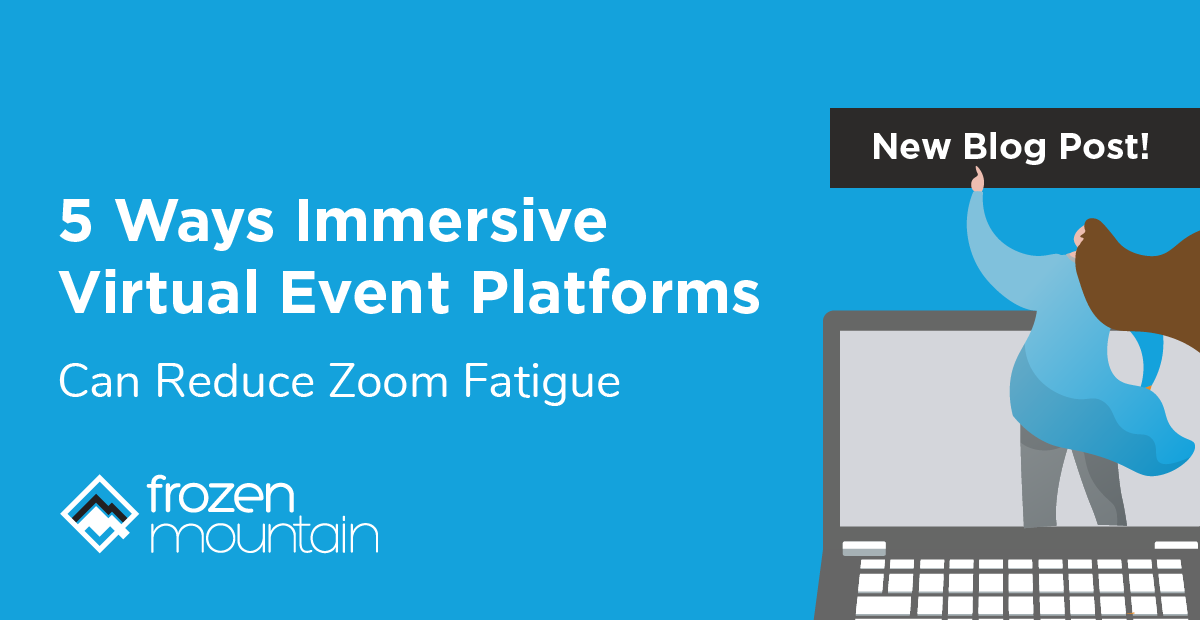 As distributed organizations struggle to recreate in-person events that bring Zoom-fatigued employees online, immersive virtual event platforms such as Showboat are bringing a fresh perspective on how company events - such as happy hours and holiday parties - are hosted online.
Similar to offices all around the world, our staff events at Frozen Mountain needed a virtual, socially-distanced alternative to meet current gathering restrictions. We wanted to host an immersive online event for our annual holiday party; however, distributing 60+ employees across a typical video conferencing grid layout did not meet our requirements for creating a tight-knit holiday experience. Our solution?
We reached out to our friends at No Small Magic, and, working with their online platform Showboat, brought our entire remote team together in a virtual environment. Our 60+ employees congregated in this virtual space, sharing conversations and interacted with a live performance for the first time in almost a year.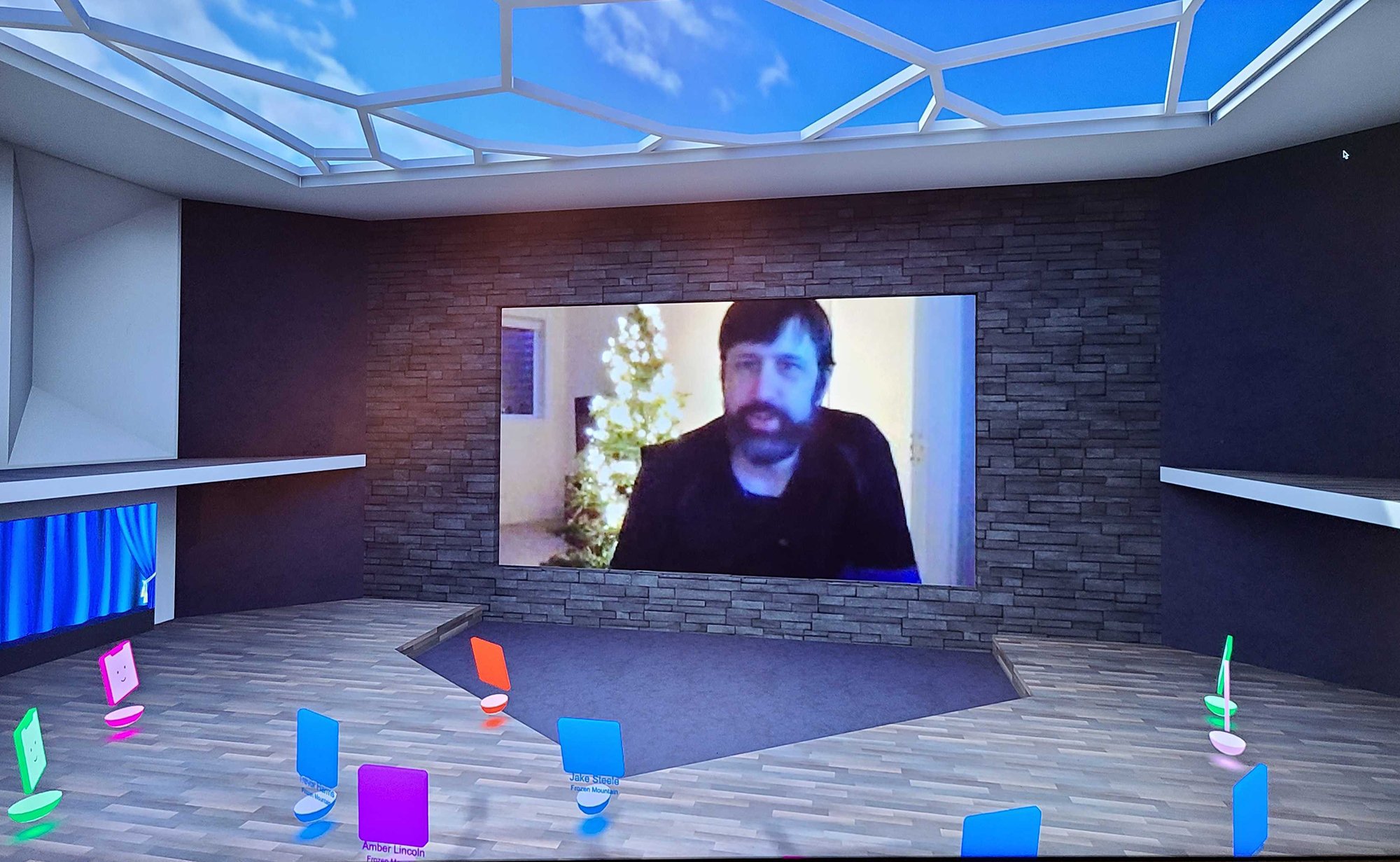 Our experience has led us to compile five reasons why flexible platforms like Showboat can bring remotely distributed organizations together, host delightful event experiences, and reduce Zoom fatigue.
1. Autonomy
Showboat's easy-to-use WASD and arrow key navigation controls allow participants to fully immerse themselves in the virtual space, moving around as they please. They can choose to converse with the participants of their choice, form group conversations as well as break off into separate rooms for private conversations. Users can also enter and exit the space without detracting the experience of other guests.
2. Flexible Hangouts
Breaking off into one-on-one time is easier than ever before as is also rejoining a group. Showboat's unique spatial audio capabilities ensure that audio levels change based on the proximity between participants, simulating realistic audience chatter often found in large rooms of people. Event hosts can also greet new arrivals individually, unlike Zoom meetings where the screen simply fills with participants - and repeating greetings seem disruptive to ongoing conversations. Showboat's flexibility encourages participants to converse as they please, removing the awkwardness of Zoom calls where there is only one dominant conversation.
3. Interactive Live Performances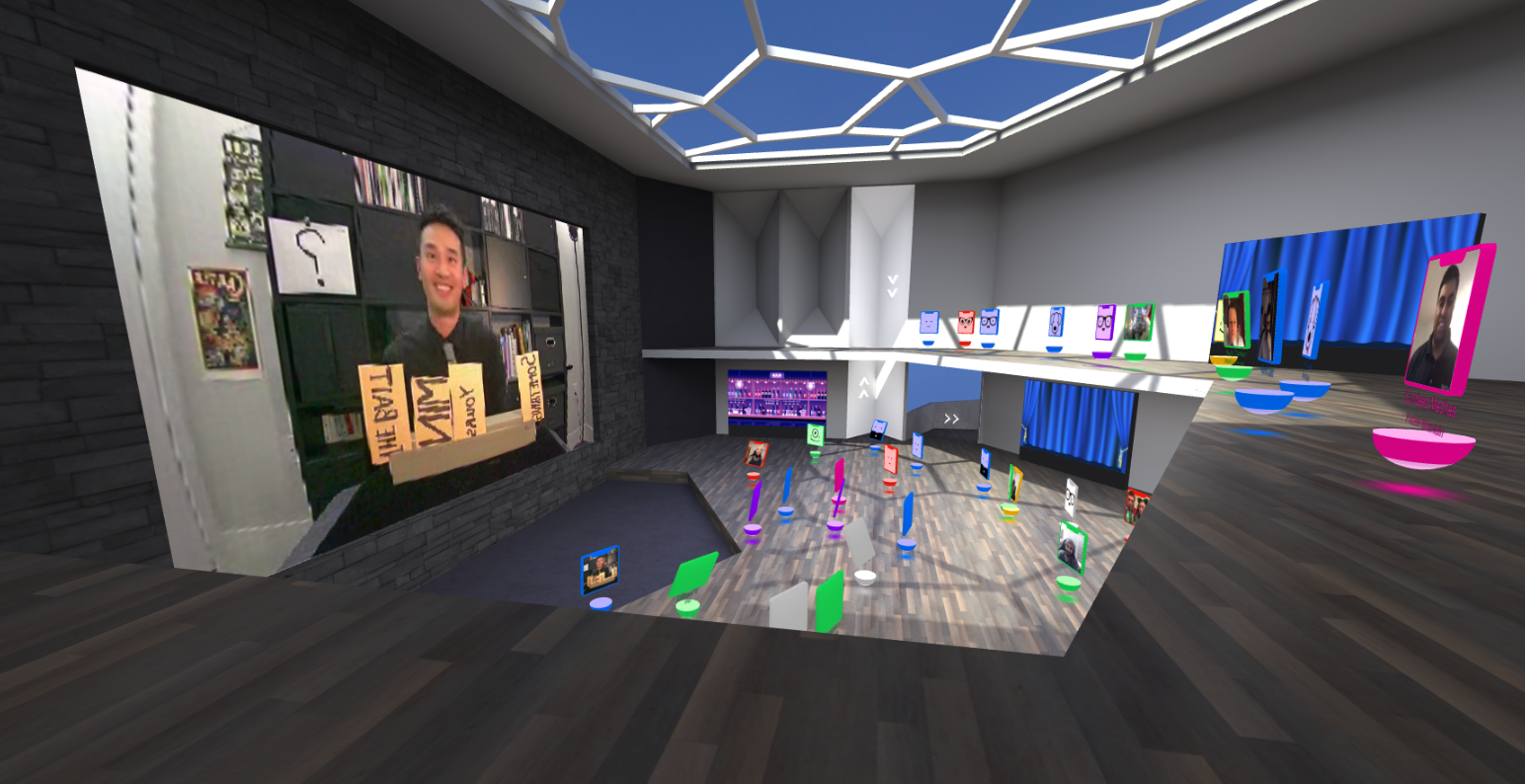 The real-time, low-latency aspect of Showboat, coupled with the ability to host groups of 50+ makes Showboat extremely attractive for virtual events that want to hire a performer (eg. magician, comedian, singers, bands). Simulating a real-life performance, audience members can cheer on the show in real-time. Performers receive the real-time interactivity they crave, enabling them to adjust their performances based on audience feedback and engagement levels.
4. Personalized Spaces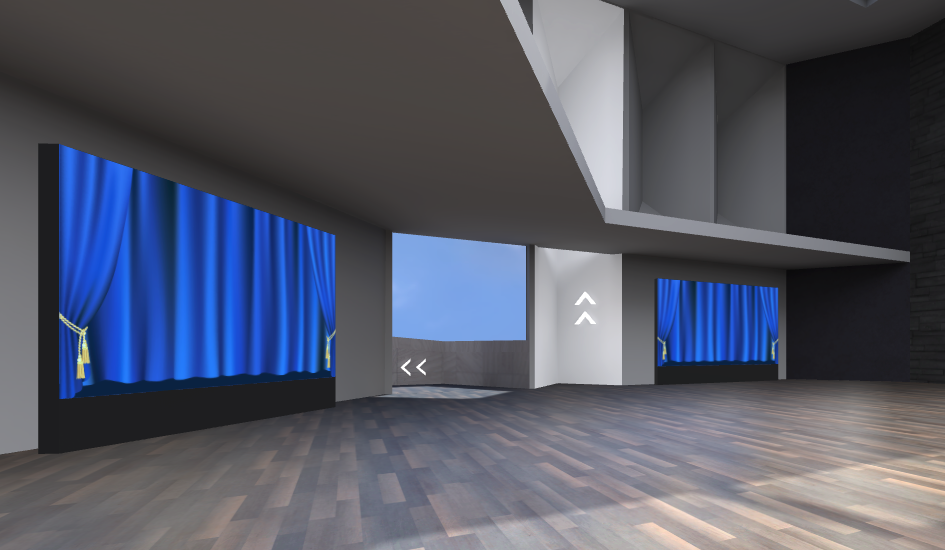 Personalizing Showboat spaces with graphics is a unique feature that adds an extra dimension of immersion for each event. Frozen Mountain customized the space for the Christmas party, decorating the virtual platform with heavy draperies and a virtual bar that mimicked a lavish party.
5. Large Shows? No Problem.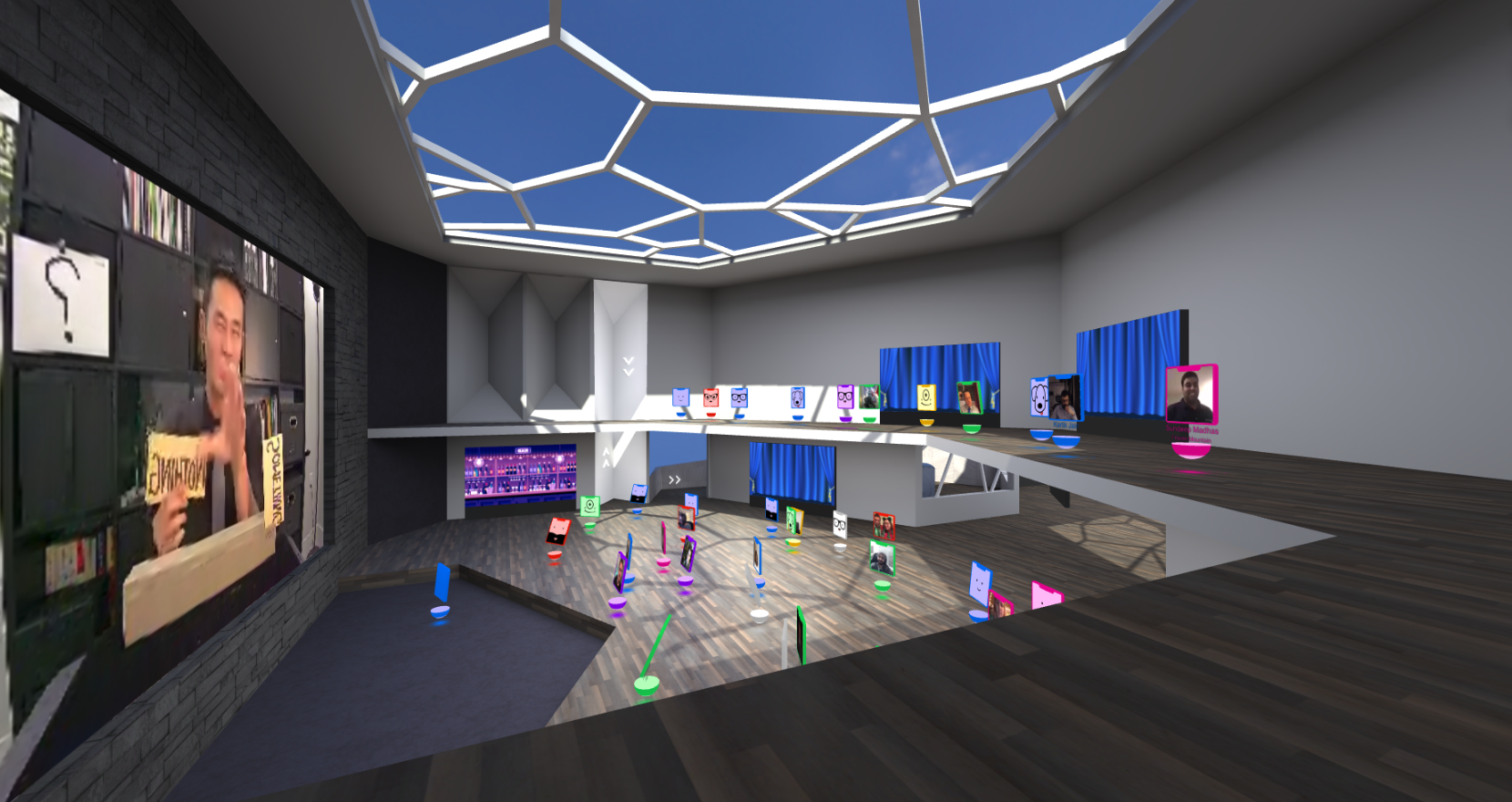 A scalable solution that can accommodate interactive gatherings of progressively larger groups of employees is critical for Frozen Mountain. As we continue to grow our team, we need a solution that can deliver a reliable, spectacular experience for an unlimited amount of concurrent participants. Knowing that Showboat leverages our flexible SDKs and are continuously innovating provides us with the peace of mind that the platform can meet all our requirements today and tomorrow.
Wrapping It Up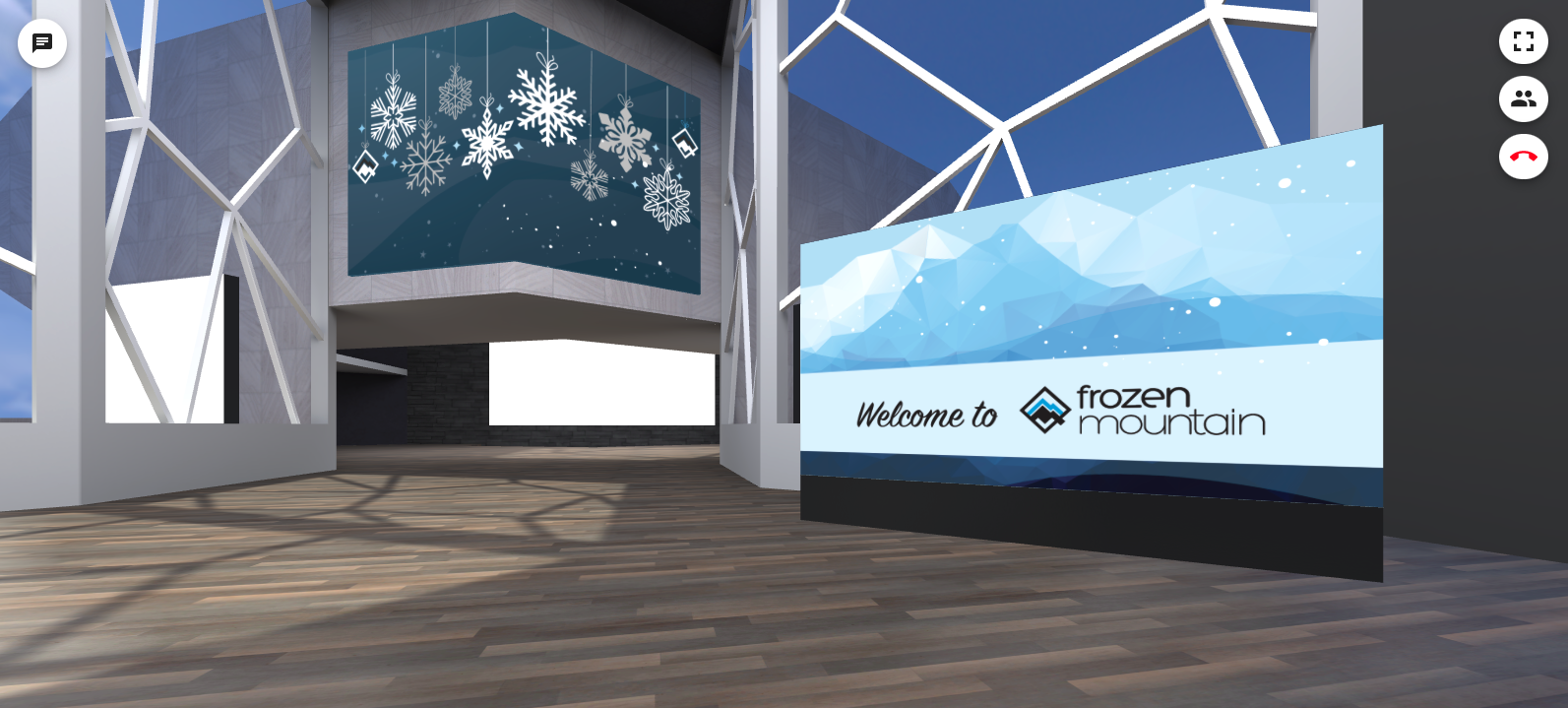 Platforms such as Showboat are combatting Zoom meeting fatigue by connecting distributed remote employees together in an immersive, online space. Autonomous interactions, flexible hangouts, real-time performances with live audience engagements, room personalization, and low latency scalable video streaming for large groups all make Showboat one of the most exciting and innovative solutions to watch in the virtual events space this year.

Visit Showboat to learn more about their solution, or go here to learn more about LiveSwitch Cloud, the live video platform & API making flexible event platforms possible.