WebRTC Selective Forwarding and Mixing 
for all Web, Mobile and Native Platforms
Products & Services

/

LiveSwitch
Server-Based Selective Forwarding & Mixing

Coming June 2017 — LiveSwitch SFU and MCU will let you scale WebRTC video conferences with automatic bandwidth management, SVC, an improved end-user experience and reliable recording.
Powered by IceLink, our multi-award winning WebRTC audio/video streaming SDK, LiveSwitch will feature the same extensibility you're familiar with. LiveSwitch's powerful media pipeline and pluggable architecture allows for virtually unlimited real-time media processing and signaling options.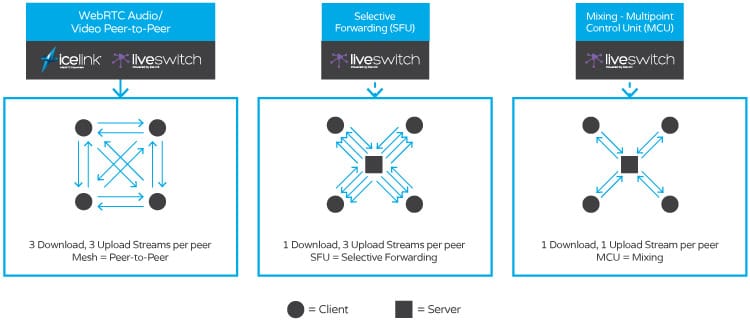 P2P, SFU and MCU in One Package
When you purchase LiveSwitch, you'll also receive IceLink, our P2P audio/video streaming SDK.
This gives you the ability to create applications that dynamically switch between P2P, selective forwarding or mixing architectures based on rules you define.
Selective Forwarding for 
Video Conferencing
Unlike a traditional WebRTC mesh (P2P) network, a selective forwarding architecture is based on each participant uploading to a central server. That server takes in all the packets and routes, or forwards, them back individually to each user according to your application rules, adjusting quality for each user independently without expensive media encoding and decoding. Content can also be routed to and from other media endpoints, like telephony devices and content distribution networks.
There are many ways to organize streaming with an SFU, and to determine who should receive what, and when. LiveSwitch allows you to easily define those rules for your application.
Mixing for
Multiparty Audio & Video
When desired, clients can connect in with a single upstream/downstream connection. LiveSwitch also functions as a multipoint control unit, or MCU, and will automatically mix audio and video together into a single downstream for these participants. With just one upload stream and one download stream for each call participant, this is especially useful for legacy and resource-constrained devices. The server handles all the mixing automatically, and the output of that stream is delivered to each user in the format their device requires.

LiveSwitch also allows you to dynamically change between SFU or MCU architectures on a per-client basis depending on your application rules.

From three participants to three hundred, LiveSwitch makes server-based video conferencing scalable, efficient and truly cross platform.
Be the First to Know

With LiveSwitch SFU and MCU, you can efficiently scale your real-time audio/video application to hundreds of users with server-based selective forwarding and mixing.
Interested? Sign up to be notified as soon as it's released!
Interested in LiveSwitch?
Questions? Click below.
Sign Up for Launch Notification
The WebRTC SFU and MCU
Solution that

Plays Nice With Everyone










Cross Platform
Powered by IceLink's custom WebRTC stack, LiveSwitch will support all web, mobile and native platforms.
Pluggable Architecture
LiveSwitch supports custom plugins for integrating with third-party services such as FreeSwitch and Wowza.
Cost-Effective
The hybrid nature of the LiveSwitch SFU and MCU gives you the power to minimize your operating costs as your session size changes.
Transcoding and SVC
LiveSwitch will automatically transcode and scale video outputs based on the client device.
Dynamic Architecture
LiveSwitch can easily switch between SFU and MCU architectures on a per-session basis instantly, based on the needs of your application.
Signaling Agnostic
LiveSwitch supports any signaling system. It is designed to operate with WebSync out-of-the-box, but can be extended to support third-party signaling protocols such as SIP and XMPP.
The Ideal Solution for

Many Industries