Blacc Spot Media

Where Design Meets Innovation
The Problem
A new client approached Blacc Spot Media needing a custom RTC application for use both internally within their secure facility, and externally with the outside world. The one small issue? The RTC app would be for a prison with extremely strict network guidelines and security measures. They needed a communications system that was completely in-network (P2P), but also allowed external incoming connections and administrative oversight. The answer? WebRTC.
Architecture
Blacc Spot Media got to work creating a strategic software architecture for the new RTC application. During their discovery phase, Blacc Spot Media compared four other potential RTC solutions — SDK options and a PaaS option — and determined that IceLink and WebSync combined created the best solution for the prison's needs due to the specialized requirements and security involved.

As you can see from the architecture diagram on the right, the application uses peer-to-peer communications to communicate with a server that provides all the required security, such as ensuring that calls terminate if recording fails. Prison inmates, staff and others within the walls of the facility can communicate in full two-way audio and video using the secure network, while outsiders such as family or other corrections personnel not physically located in the building can be included in the same two-way audio/video streams through the WebRTC component of the application.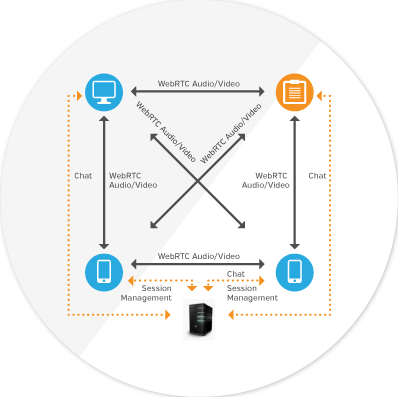 Our Solution
Blacc Spot Media's development team first created an in-network P2P application for use within the prison that met all the client's high security standards and protocols. After that was complete, Blacc Spot's team, with assistance from Frozen Mountain's Professional Services team, created a full audio/video WebRTC application using IceLink for media transfer, and WebSync for signaling. This allowed the prison application to remain secure while still accepting incoming connections from external sources using WebRTC. This innovative application connects hundreds of inmates, their families, and corrections personnel every day, improving relationships and rehabilitation efforts within the correctional system.
"IceLink and WebSync provide ease of use similar to a PaaS offering, but with the flexibility you can only get with SDKs. Combined, they're the best of both worlds for creating custom RTC application solutions for our clients."
Lantre Barr, CEO & Founder of Blacc Spot Media