StoreBuilder

Powering Enterprise eCommerce
The Problem
StoreBuilder, a powerful and flexible eCommerce platform, wanted to incorporate audio and video into their offering, as well as the ability to track customers' contextual information. Companies want to be able to offer different levels of customer service to different levels of customers, just like they do in brick and mortar stores. How can an eCommerce store provide truly personalized service? How can they shorten customer service calls while increasing customer satisfaction and their feeling of being valued?
Architecture
Integrating Frozen Mountain's IceLink and WebSync products allowed StoreBuilder to achieve excellence in personalized customer service capabilities. The chart to the right depicts how IceLink and WebSync work together in a flexible way to make sure VIP customers are routed appropriately to the VIP care team, and that customers can communicate with service reps via text chat or full audio/video.

IceLink provides the video components and screensharing capability for StoreBuilder's support, while WebSync handles the text chat and passing of contextual customer information, such as what's in the user's cart, what browser their using, and their order history – any parameters the store sets.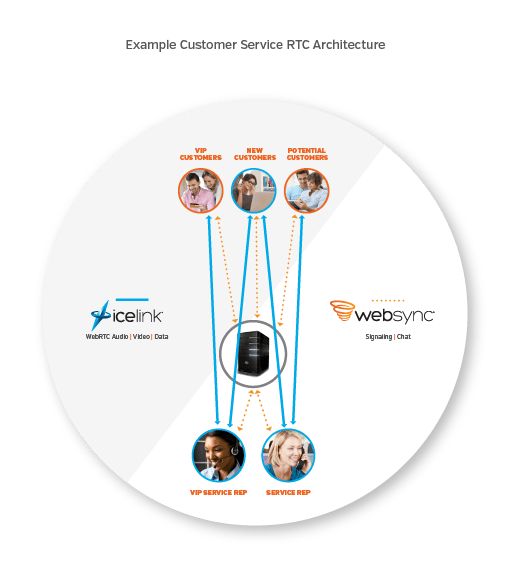 Our Solution
Allowing eCommerce retailers the ability to provide personalized service to the same level that they do in the offline world has a huge impact on overall customer satisfaction and retention. Seamlessly routing customers to who they need to speak with and using contextual information to help them, without customers having to tell the rep what browser they're using or what they want to purchase in their cart, results in happier customers, higher sales and positive brand feelings.
"Using Frozen Mountain's RTC products with our powerful eCommerce platform allows our clients to become leaders of digital customer service."
Ben Swayne, Software Architect at StoreBuilder